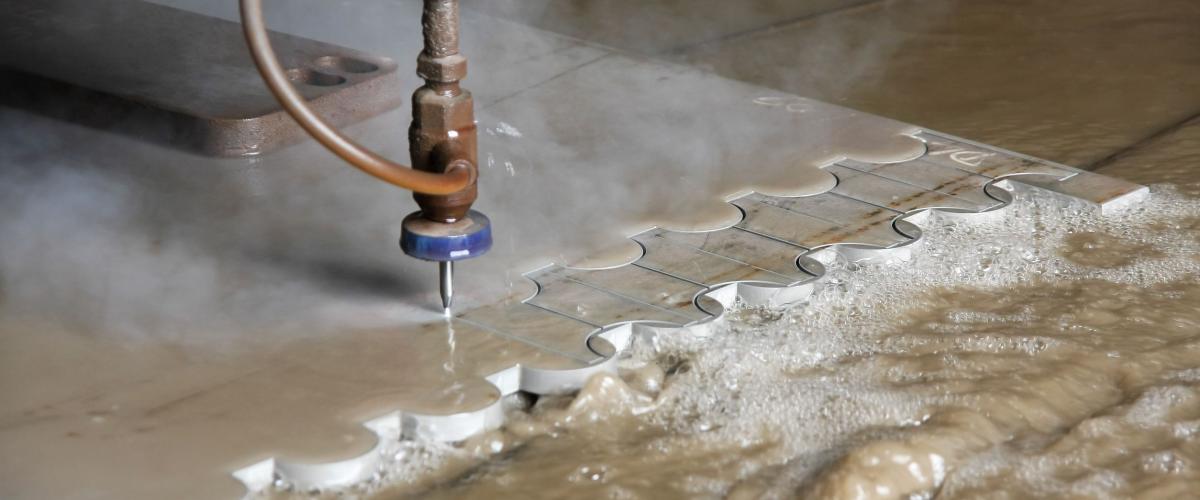 CNC sheet cutting comparison: Water jet, laser, punching or routing?
Can you cut it?
Waterjet Cutting:

Waterjet machines use cold supersonic abrasive erosion to cut almost any material, both metals and non-metals.

The highly pressurized water stream carries abrasive garnet to etch away the material.
Laser Cutting:

Laser cutting is a thermal process. Special lens are used to focus energy (3 to 6 kW) in a small area to melt away material.
Punch:

A punch press uses a set of punches and dies to form parts out of metal. The metal is formed and cut by the punch press into a part, which may have secondary machining done to it or not.
CNC Routing:

CNC Router Systems for processing rigid and semi rigid materials with a rotary cutting tool. Our CNC Routers can also machine in two axes simultaneously to create shapes out of flat materials.






Waterjet
Laser
Punch
Router
Accuracy
Waterjet cutting accuracy average of ±0.1 mm.
Accuracy to ±0.025 mm or better in thin material.
±0.5 mm positioning accuracy. ±0.25mm,punching accuracy.
±0.5 mm for 3mm tool. For 1.5mm tool ±0.25 mm. For Fret Tool ±0.1 mm
Thickness
Waterjet Machines mostly cut under 75mm. Thicker parts can be cut with reduced accuracy and slower speed.
Usually cuts mild steel less than 6mm.
Up to 3mm steel or 6mm aluminium.
up to 25mm for most woods, plastics and composites. >3mm Aluminium. No steel or stainless steel. 8mm Cementous board can be cut slowly.
Sheet size
4 meters x 2 meters bed. The base sheets can be larger if the sheet is references and moved.
Various. 3 meters x 1.2 is common.
1.2m,x 2m deep clamped zone. The machine then moves on to the next 1.2m section without releasing the sheet.
3 meters x 2 meter bed. The base sheets can be larger if the sheet is references and moved.
Cutting speed
Similar speed to Routing. Higher cost per square meter.
Very fast cutting in thin, non-reflective materials.
Fast batch production when initial programming is done. Excellent for consistent repeating patterns (from library) or where edge smoothness is less important (bracketry systems etc). Typically 3 times faster than water jet cutting or routing.
3 sq. m / h for ACM. 6 sq. m / h for foamex or acrylic. We have 6 CNC routers so can ramp up faster.
Quality of edge
Excellent. Due to the nature of Water jetting, cuts have a fine sand-blasted surface finish.
Excellent. Laser cuts tend to have a rougher edge, which may need additional machining operations to clean up.
Fair. There can be a shearing effect on the back edge of the material similar to a guillotine cut.
Fair, depending on the speed of the cutting programme there can be gradated lines on cut edge. For detailed work we have smaller tungsten carbide drill heads that work to far higher accuracy.
Heat affected zone (HAZ)
Waterjet produces no HAZ
Cuts by melting the material, resulting HAZ, often need additional process to avoid micro cracking.
No HAZ
No HAZ
Material Distortion
Waterjet machine generates No Distortion but may have hazing near the cut. No internal stress built up.
Cuts by melting, resulting material heat distortion.
Some distortion. This depends on the amount of material removed and the thickness of the sheet.
No distortion
Other characteristics
Waterjet cutter works well in non-conductive and conductive materials. Material that is not, of consistent thickness flat can be cut.
Limited to non-reflective materials.
Dimple, cluster punch, louvre, key hole, triangle, obround, embossing, slitting, square, circle, rectangle and circular tools available. Up to 20 tools can be simultaneously loaded for use on the same sheet.
It is possible to V cut route the sheet and fold it. This allows tight radii corners to be formed.
Can pierce material directly without other drill equipment. The reliability of the water jet machine reduces the risk more valuable raw materials will be damaged in production.
May need different gas for cutting different materials.
Not work well on on brittle or hardened materials. No plastics.
Also it is possible to hog out material without cutting all the way through. Bull nose, bevelled edges, pocketing and step cutting. These are processes that laser, punch and waterjet cannot perform.
Fast setup and rapid programming. Great for short runs, difficult material, and thick material. The very nature of Waterjet cutting places no mechanical stresses into the work-piece. For this reason non toughened glass, tiles, granite etc can be cut without the risk of shattering.
Cannot cut some plastics (PVC, foamex) due to gasses produced. Cannot cut aluminium, copper or bronze.
We have a library of over 3,000 tools in stock. This can allow the economies of fast production without the cost and delays of instruction a tool.
Cannot cut steel. Rout or cut foam core, corrugated cardboard, MDF, PVC, PETG, Acrylic, Polycarbonate, Aluminium Composite Material, Di-bond, Aluminium, brass, copper, Corian, Marley Eternit.
Lateral forces with a waterjet are negligible, which means that holes can be placed very close to the material edge, which is not the case with a punch press. Waterjets can also work with very thick materials, while punch presses are limited in thickness to the amount of pressure they can apply. And, of course, waterjets can work with many different types of materials, including brittle materials and laminates .
For high production of thin sheet-metal, the stamp will be more profitable in many cases. Compliments the accuracy of the water jet.
Cost advantage – other CNC technologies such as waterjet and laser cutting are dramatically more expensive capital investments with higher ongoing operational costs.